Autumn brings about a shift not just in the environment but also in the world of fashion and beauty. As leaves change their hues and the air turns crisp, our choice of nail colours and designs follows suit. Dive into this detailed guide to discover the latest trends for autumn manicures in 2023 and learn how to perfect your nail game this season.
The Shift from Summer to Autumn: The Color Transition
With every passing season, nail art design evolves, offering fresh takes on seasonal styles. Just as the vibrant neons of summer make way for autumn's earthy tones, our nails transition from bold and bright to rich and subdued.
Autumn is synonymous with the soothing shades of burgundy, deep berry, warm brown, forest green, and mellow yellows and oranges. These colours draw inspiration from the natural shift in the environment, reminiscent of the fading foliage of November. Augmenting this palette are the timeless all-season favourites: nude, classic red, and blue. These shades provide a versatile base for any manicure design, ensuring your nails are always in vogue.
PANTONE's Autumn-Winter 2023/2024 Palette: A Vibrant Twist
The Pantone Color Institute releases a curated set of colours that define global fashion and design trends each year. For the autumn-winter season of 2023/2024, the selection embodies a delicate balance between our longing for serenity and our inherent drive for vivacity. The palette represents a journey through contrasting emotions, symbolizing our modern lives' dynamic ebb and flow.
This season's standout shades include:
Rose Violet: A blend of pink and violet, embodying the last remnants of summer blooms.
Viva Magenta: A vivacious shade adds vibrancy to the muted autumn hues.
Red Orange & Red Dahlia: Two variants of the fiery red, echoing the colours of autumn leaves.
High Visibility Yellow: A bright yellow shade reflecting the golden glow of the setting autumn sun.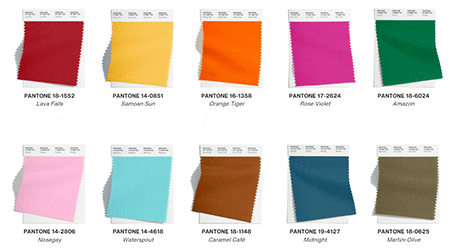 Manicure Trends to Watch Out For
Multicolored Nails
The trend of having each nail painted in a different shade or design continues to reign supreme. This year, the emphasis is on gradients, blending the shades of the season in varied sequences, further elevated with matte or glossy finishes.
Classic Reinvented: French and Lunar Manicure
The classic French manicure gets an upgrade. Think of unconventional colours replacing the traditional white tips or a lunar design focusing on the base of the nails. This style remains a timeless favourite whether applied to all nails or just as an accent.
Metallic Accents with Foil
The allure of metallics finds its way into autumn designs, incorporating foil in gold, silver, and even coloured variants. Whether used sparingly for a subtle shimmer or as a standout design element, foils will make a statement.
The Charm of Cappuccino Tones
For those seeking understated elegance, the range of coffee-beige shades offers a sophisticated choice. From deep espresso to milky latte, the gradient effect achieved with these shades is both refined and stylish, making it a popular choice for any occasion.
Crafting the Perfect Autumn Manicure for 2023
To achieve that flawless autumn manicure, follow these simple steps:
Preparation is Key: Clean, shape, and prepare the nails. Ensure that any old polish is removed and the nails are free from any moisture or grease.
Lay the Foundation: Apply a base coat and let it dry, ensuring longevity and a smooth canvas for your chosen colour.
Pick Your Shade: From the vast spectrum of autumnal shades, select one that complements your skin tone and attire.
Design Your Look: Whether you opt for a French design, gradient effect, or a metallic accent, let your creativity flow.
Seal the Deal: Finish with a top coat, be it matte or glossy, to enhance durability and shine.
Final Touch: Treat your cuticles with a nourishing oil to ensure they remain moisturized.
In conclusion, as autumn 2023 approaches, equip yourself with the latest trends, and don't be afraid to experiment. After all, every season offers a new opportunity to express oneself, and your nails are the perfect canvas!